A resource enlightened management seeks out

Bill Harvey receiving the first Erwin Ephron Demystification Award in 2014
Bill is a popular speaker at virtual conferences of the Advertising Research Foundation, Marketing Research Council, MediaVillage, Mediapost, Simulmedia, Research Business Daily Reports, and is quoted regularly in social media and in Forbes.
Dubbed a visionary by many of his colleagues, Bill Harvey has helped spur the communications industry to a number of positive changes involving information and new technologies for over 3 decades. His company Next Century Media ("NCM") introduced set-top box measurement, addressable commercials, data-driven program recommenders, and programmatic buying with the Opti*Mark addressable optimizer, which simultaneously increases the value for both buyer and seller. NCM licensed IP to the next company Bill founded, TRA (now called TiVo Research), the first to do massive same-household matching of media and purchase data, for which Bill has received four U.S. patents. TRA was acquired by TiVo in 2012.
Bill Harvey Consulting advises most of the major advertisers, agencies, media, and research companies of the world.
In 2015 NCM licensed other IP to help start Bill's newest company, Research Measurement Technologies ("RMT"), with top talents from across the industry. With its proprietary technology, and the array of data available, RMT is working with top advertisers, agencies, television networks and others to grow the present programmatic buying industry to one that can optimize ROI with continuous machine learning, considering not only media variables but also creative ones. In Hollywood, RMT's technology is being used to aid development and maintenance of series, and, more recently, for scheduling optimization and recommendation.
Bill Harvey Consulting also works with companies interested in staying ahead of rapid change. His wealth of services are shown on the Services and Areas of Expertise pages.
SERVICES
CEO coaching, ideating the optimal pivot, creating compelling differentiation, monetizing data, repositioning mature brands, development of brand native content, supporting new system builds for maximum user appeal and positive business impact, speeding up reading sales effects. Read  about our Services. To see what can be accomplished using an outside perspective and a management team ready to get creative, often just
In One Day — click here.

SPEAKING ENGAGEMENTS
Bill Harvey is a keynote speaker at numerous events: conferences and one-day customized seminars where he can provide his vision of the future of a specific part of the media world. Bill is known to many as a media futurist. He's also engaged to provide transformational experiences to C suite and top military officers. Read more.
AREAS OF EXPERTISE
Bill Harvey Consulting brings a proven ability to think in enough dimensions so as to aid in the process of integrating all the powerful tools available in today's market. Bill Harvey is rare in having experience across a vast scope of areas of expertise implementing those tools. CRM. Single-source data. Measurements of Marketing ROI. Interactive Media.Optimizers. And more. He even invented some of them: ADI, passive peoplemeters, addressable commercials, set top box measurement linked to purchase data, media optimizers.Areas of Expertise illustrates the breadth and scope of knowledge and experience Bill Harvey Consulting can offer your company. Read more.
What can Bill Harvey Consulting do for you and your company?
Today we are using many technologies and techniques we all take for granted that Bill either invented or helped develop. Such as more sophisticated models of markets, more accurate audience measurement methods, single-source databases, passive peoplemeters, international harmonization of data, media effectiveness models and metrics, optimizers, story-finding systems, the beginnings of Interactive Media, and other tools.
BILL HARVEY MEDIA YOU TUBE CHANNEL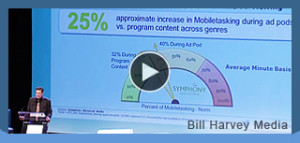 Many of Bill's speeches and interviews can be seen on the
Bill Harvey Media YouTube Channel.
IN TERMS OF ROI BLOG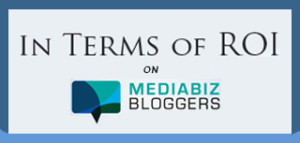 Bill Harvey has been writing a column and blog on Myers for many years now revealing his forward thinking and ideas ahead of their time. The most current is a blog called In Terms of ROI.
Bill was also most fortunate to have been mentored by some of the top minds in the industry. Now paying it forward, he and his network of forward-thinking communications industry luminaries serve as consultants to organizations that make maximum use of their talents. Whether through one-day engagements to inspire fresh thinking in the strategic business repositioning of major corporations, or via primary field research, or the depth analysis of data, or expert witnessing in important litigation, or midwifing the invention of new information or new media technology of any kind. Bill Harvey Consulting is a resource that enlightened management often seeks out.